Enjoy two of the most iconic museums in the West!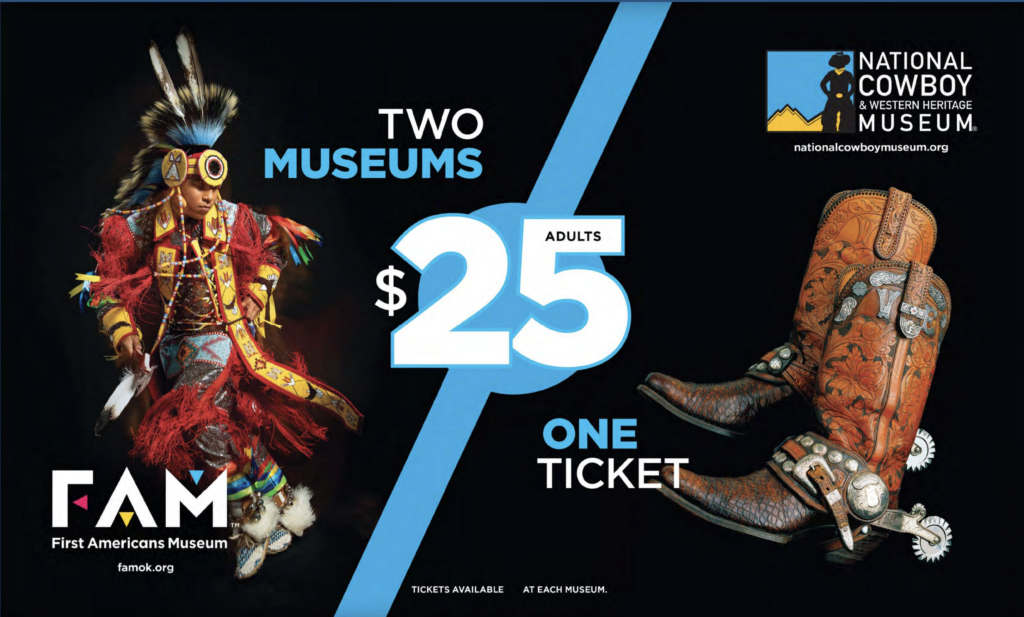 Tickets available at either museum
In-person purchase only.


Only six miles north or south on Martin Luther King Avenue in Oklahoma City to visit each institution.
ONE PLACE, MANY NATIONS. In one place, visitors experience the collective histories of 39 distinctive First American Nations in Oklahoma today. First Americans Museum shares the cultural diversity, history, and contributions of the First Americans.
Only a few tribal Nations were indigenous to what is now the State of Oklahoma. All others were removed from homelands across the contiguous U.S. to Indian Territory. In 1907 Oklahoma became the 46th state to enter the union. The state's name comes from two Choctaw words "Okla" and "Homma" meaning Red People.
The mission is serve as a dynamic center promoting awareness and educating the broader public about the unique cultures, diversity, history, contributions, and resilience of the First American Nations in Oklahoma today. Plan your visit.
National Cowboy & Western Heritage Museum
America's premier institution of Western history, art and culture. Founded in 1955, the Museum collects, preserves and exhibits an internationally renowned collection of Western art and artifacts while also producing exciting events that highlight and celebrate the unique cultures of the American West.
The Museum features a superb collection of classic and contemporary Western art, including works by Frederic Remington and Charles M. Russell. The exhibition wing houses a turn-of-the-20th-century town and interactive history galleries that focus on the American cowboy, rodeos, Native American culture, Victorian firearms, frontier military and Western performers.
The newest addition to the Museum is Liichokoshkomo', a 100,000 square foot outdoor educational experience with hands-on, minds-on activities for all ages. Plan your visit.