First Americans Museum welcomes homeschool families to the museum for a fun-filled day of tours, hands-on activities and films. Each quarterly Homeschool Day focuses on a different theme that explores the cultural pathways and traditions of the 39 Tribes in Oklahoma.  
Families can enjoy discounted admission at the school rate with advance registration. Both individual families and homeschool co-ops are welcome. Discounted admission is only available for purchase online!
Don't forget—FAM members receive free admission!
By attending programs, attendees agree to grant the First Americans Museum and its authorized representatives' permission to record on photography film and/or video, pictures of participation. Attendees agree that any or all of the material photographed may be used, in any form, as part of any future publications, brochures, or other printed materials used to promote the First Americans Museum. Such use shall be without payment of fees, royalties, special credit or other compensation.
Friday, May 19, 2023 | 11 a.m. – 3 p.m.
$4 per student grades PreK–7; $6 Grades 8–12; $8 Adults; 3 and under are free | Advance Tickets Required
Why has frybread become synonymous with Native food? What does it mean to eat Indigenous food? Come and discover the complex history of frybread and how it has evolved into a meaningful family recipe. Learn about food sources native to Oklahoma and how tribes adapted to this land during the Removal period. Bring your appetite as you create your own cookbook of fun Indigenous recipes to try at home. By the end of this come-and-go program, students will have learned how to connect with the land through Indigenous food sources.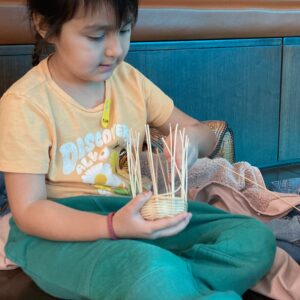 Interwoven
Learn about Indigenous fiber arts! Visitors explored the diverse designs and motifs of the 39 tribes in Oklahoma. Families joined FAM staff as they teach visitors how to make woven baskets, ribbon skirt ornaments and more.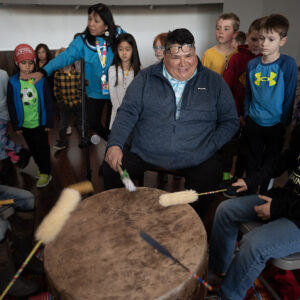 Heartbeat of Nations
Why is music considered the heartbeat of Indigenous communities? Families participated in hands-on activities and learn about indigenous music!